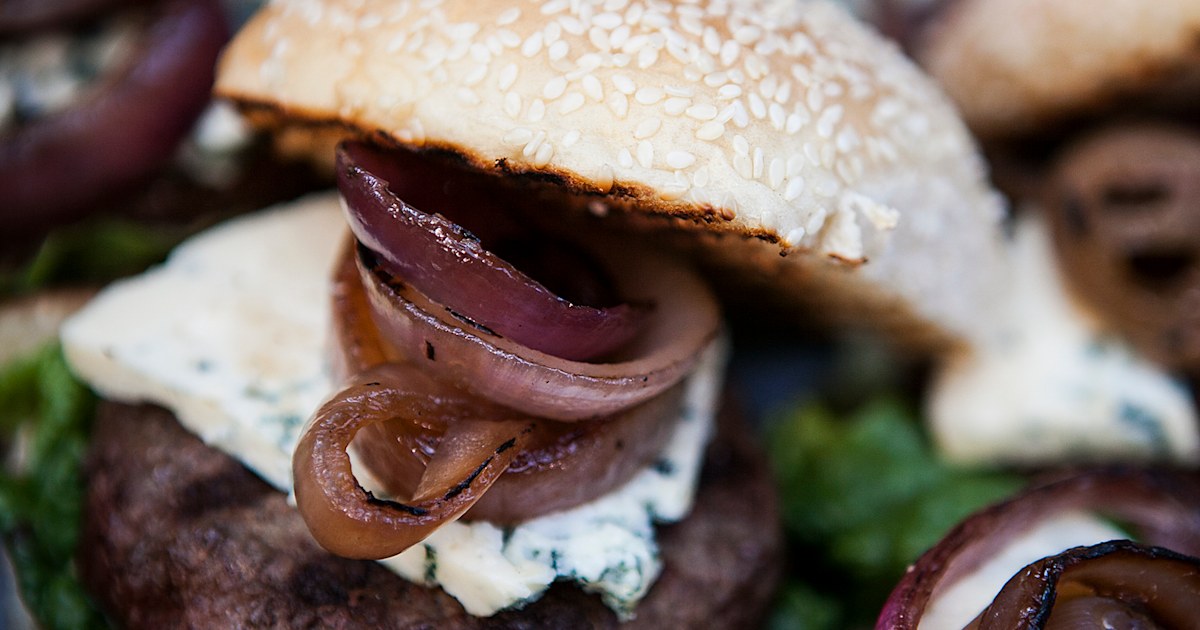 Martha Stewart shares her favorite grill recipes
With the hot, sunny summer weather in full swing, it's hard to stay indoors long enough even to cook. Martha Stewart shares with TODAY her best recipes for an outdoor barbecue, from steak house burgers on the grill to toasted marshmallows (with chocolate fondue!) On the campfire.
Steak house burger
For 4 people

11 ounces boneless short ribs, trimmed of any large chunks of fat
11 ounces sirloin steak, stripped of any large chunks of fat
4 red onion slices, 1/2 inch each. thick
2 oz. blue cheese, sliced
Olive oil, for brushing
Coarse salt
4 sesame seed buns
Equal parts Dijon mustard and whole mustard mixed together, for serving
Romaine lettuce leaves, for serving
Thinly sliced ​​tomatoes, for serving (optional)
Cut the two meats into small pieces. Grind through the large holes of a meat grinder. Mix in a bowl, then grind together through the small holes in the grinder. Divide into 4 equal parts (each about 5 1/2 oz). Form patties, about 3 1/2 inches in diameter each.
Preheat the grill to medium-high heat. Skewer the onion slices crosswise with the pre-soaked skewers and brush both sides with oil. Season both sides of the burgers with salt, then grill 2 1/2 minutes per side for medium rare, placing cheese on top of burgers at the last minute. Transfer to a plate.
Grill onion until tender and lightly charred (about 4 minutes per side). Meanwhile, toast buns until toasted (about 30 seconds). Sandwich the burgers and onions (removed from the skewers) on buns with the mustard mixture, lettuce and tomatoes.
Grilled corn with lime and chili
For 6 persons

6 corn cobs, husks and silk removed
Safflower oil, for brushing
Lime wedges, for serving
Coarse salt, for serving
Chili powder, for serving
Preheat the grill to medium-high and lightly brush the hot grill with oil. Grill corn, turning occasionally, until kernels are tender and charred in spots, about 20 minutes.
Transfer the corn to a serving platter and serve with lime wedges, salt and chili powder.
Watermelon punch bowl
Serves ten

1 seedless oblong watermelon (about 14 lbs)
3 cups of seltzer
Cut off the top third of the watermelon and cut off the bottom just enough to make a flat surface. Remove the flesh.
Working in batches, puree the watermelon in a food processor. Pass through a fine sieve, removing any solid pieces. (You should have about 9 cups of juice). Cover the crust with plastic wrap. Refrigerate the juice and zest until cooled (about 1 hour).
Mix the juice with the seltzer water; transfer to the crust.
From quick recipes to cleaning tips, Martha Stewart on how to throw a last minute party on July 4th
Beer Margaritas
1/2 cup granulated sugar
1/2 cup freshly squeezed lime juice
5 lime wedges
Coarse salt
2 cups of ice
3/4 cup chilled silver tequila
1 bottle (12 oz) of Mexican beer
Place the sugar and 1/2 cup of water in a medium saucepan. Cook over medium-high heat, stirring, until the sugar has dissolved. Remove from heat and let cool to room temperature. Stir in the lime juice and transfer to the refrigerator until chilled.
Rub a lime wedge around the rim of each of the 4 glasses. Fill a saucer with salt and dip the rim of each glass in the salt to coat. Fill each glass with 1/2 cup of ice cubes and set aside.
Stir tequila into lime mixture and divide evenly among prepared glasses. Top with beer and stir. Garnish each glass with a lime wedge and serve immediately.
Toasted marshmallow, toast and banana sticks with chocolate fondue
Makes 8

For the fondue:
8 ounce. bittersweet chocolate, chopped (1 1/2 cups)
1 cup heavy cream
3 tbsp. Bourbon (optional)
Place the chocolate in a heatproof bowl. Bring cream to a boil in a medium saucepan over a campfire or medium-high grill, then pour over the chocolate. Let stand 5 minutes, then whisk until smooth. Stir in the bourbon.
For the skewers
2 pan-fried buns, cut into 1 1/2 inches. cubes
4 ripe but firm bananas, cut into 1 1/2 inches. thick pieces
1 bag (10 oz) of marshmallows
Thread the bread, bananas and marshmallows onto 8 skewers. Grill over a campfire. Serve with the chocolate fondue for dipping.