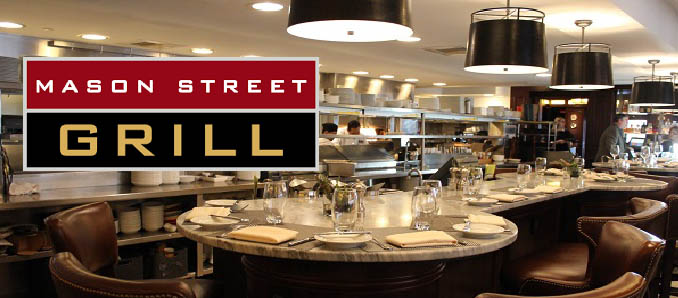 "Global Eat in the Neighborhood" at Mason Street Grill
[ad_1]
Mason Street Grill's new chef's counter to celebrate culinary diversity
Traditions of restaurant staff
No matter where you are in the world, food can bring diverse people and interests together around one table. This is the goal behind Mason Street GrillThe new Chef's Counter experience of – Global Eating in the Neighborhood. Rotating every eight weeks, the Chef's Counter at Mason Street Grill, part of the Marcus® Group of restaurants, will offer unique dishes celebrating the various culinary traditions of the restaurant's associates.
The first Comptoir du Chef menu is now available and includes:
Aperitif: Tuna kilawin ($ 19) with coconut, lime, red onion, pickled red pepper and cilantro

This dish comes from Brian Pascua, a cooking intern from the Philippines.

Entrance: Seared trout ($ 38) with ginger, lemongrass, tomato, mint and dill

This dish is by chef Chris Xiong and highlights its Laos / Hmong heritage.

Side: Fasolakia ($ 8), which includes green beans, tomato, oregano, lemon, and extra virgin olive oil

This dish comes from cocktail waitress Christina Manolatos from Greece.

Dessert: Tres leches cake ($ 9) with Rumchata whipped cream

This dish is by chef Christian Garcia-Cortez and celebrates his Mexican heritage.
"We have passionate and diverse associates at Mason Street Grill. Whether they work in the bar or in the kitchen, they are dedicated to creating an exceptional experience for our customers. And, to celebrate their work, we wanted to present dishes that remind them of their past or their country of origin, "said Susan Terry, Vice President of Culinary and Dining Operations at Marcus Hotels & Resorts. "This new Chef's Counter is a precious reminder of the power of food. No matter where we come from, food and meals bring us all together. It was a pleasure to taste and enjoy these four unique dishes from four people that help make the Mason Street Grill one of Milwaukee's favorite neighborhood eateries.
As part of the Chef's Counter experience at Mason Street Grill, patrons sit next to the restaurant's kitchen, giving them a front row seat for the action. In addition to enjoying this new featured menu, diners can also select one of the restaurant's usual a la carte menu items. Although not required, reservations are recommended. You can book on Open Table or by calling
(414) 298-3131.
New spring and summer menu
Mason Street Grill also announced today its new spring and summer dishes, which will feature fresh and inventive seafood dishes, perfect for a lighter meal during the hot summer months. In addition to the restaurant's classic cuts of beef, diners can now enjoy:
Grilled swordfish,
A new roll of lobster salad,
Teriyaki glazed salmon,
Mussels in green curry, and
A tuna poke bowl.
More information on Mason Street Grill, its chef's counter, upcoming events and menu can be found at http://www.masonstreetgrill.com/.
About Mason Street Grill
Located in downtown Milwaukee next to the Pfister Hotel, the award-winning hotel Mason Street Grill is where Milwaukee works and plays. Serving lunch, dinner, after-work cocktails, appetizers and more, the Mason Street Grill is the quintessential neighborhood restaurant that welcomes residents and visitors to Milwaukee. The open concept kitchen at Mason Street Grill serves creative regional American cuisine that reflects the bounty and vitality of Wisconsin. The wood-fired oven and grill provide the best steaks, chops, seafood, and baked flatbreads in the Midwest, which are the centerpieces of the menu. For the sixth consecutive year, Mason Street Grill has achieved Wine Spectator Award of Excellence for its offer of more than 290 varied and quality wines. With a lively bar scene, lively dining room, lounge, elegant private dining room, and an exciting menu, Mason Street Grill is the perfect place to experience the best elements of the area: fresh food, service expert and unparalleled atmosphere.
[ad_2]