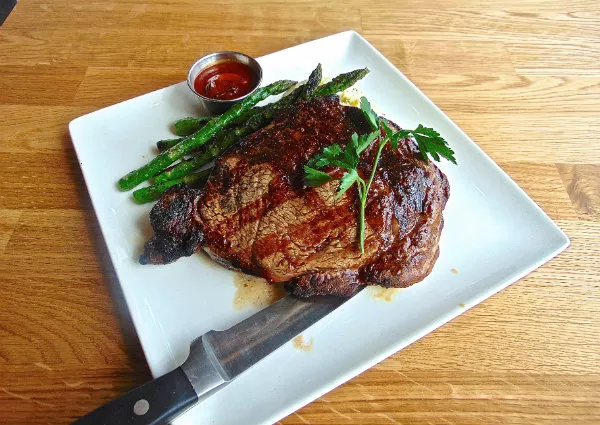 An overview of the Weber Grill restaurant, opening at the St. Louis Galleria
The Weber Grill restaurant will be the newest addition to the St. Louis Galleria when it opens on April 4th. The Richmond Heights Mall's sizable space will be the Chicago-based restaurant's fifth location, but don't erase the grill. restaurant inspired like another corporate chain, says executive chef Tim Eagan.
"It's really a family business," says Eagan. "It's not necessarily a chain. It is really anything but.
George Stephen Sr. of Chicago originally created the distinctive Weber Kettle grills in 1952. Today his family owns the restaurants that bear the Weber name.
These are not cookie-cutter operations. Eagan, a St. Louis native who once cooked at the Doubletree Hotel in Chesterfield, says the menu here will be unique. "There's a lot of chance for us to do things in St. Louis. I'm working on a pork steak recipe. We are working on different variations of sticky butter cake for the dessert menu.
The St. Louis location is also the first Weber restaurant in the United States to house a Grill Academy, a component of the Weber brand so far only in Canada and Europe. The Academy offers customers the opportunity to live an interactive culinary experience; Eagan and other chefs will demonstrate how to cook on Weber grills, as well as how to cook menu items.
"A lot of our recipes, we hand out recipe cards to detail exactly how we prepare them. It's not a big secret like in most places, "says Eagan. "Here you can actually see them doing it, we'll show you how to do it, and then give you the recipe to take home and try to make it there. "
While the menu focuses on grill-executed dishes, it also uses a "something for everyone" concept, in terms of price and variety of dishes. On the appetizer menu, diners can choose from a variety of protein-based appetizers like baby back ribs (slowly smoked and glazed in Weber's hickory barbecue sauce) and a southern-inspired wood-fired crab cake. -west (a tender chunky crab rests on a bed of poblano pepper, smoked corn and black bean and tomato salsa, served with avocado and chipotle mayo.)
And what would a grill-themed restaurant be without a range of burgers? Weber offers seven options, including the Prime Kettle Burger, ranging from $ 11 to $ 16. The menu describes it as the "pinnacle" of burgers, made with a blend of premium Black Angus beef, seasoned with Weber seasonings and cooked to the customer's preferred temperature on a charcoal grill. The galette is topped with bourbon grilled onions and strong Vermont cheddar, sandwiched between a toasted ciabatta bread and a skewer of crispy breaded pickles. It is served with Parmesan and Garlic fries from Weber.
On the other side of the price spectrum are the steak and seafood options. A 28-day-old 16-ounce hand-cut Delmonico rib eye (served with mashed potatoes). 'garlic) will set you back $ 38. Likewise, cedar plank grilled Atlantic salmon served with a seasonal vegetable costs $ 23.
The restaurant also offers a dessert menu, all homemade from scratch. There are two pastry chefs on hand for offerings like the S'mores melted chocolate cake (toasted marshmallow, graham crackers and vanilla ice cream) and the "Big G's Caramel Apple Pie", which includes an apple pie filling. homemade, cinnamon ice cream, bourbon caramel sauce and even bourbon baked right into the crust.
At the restaurant, diners will also be able to purchase Weber grills and other merchandise from an online kiosk, with the grill delivered right to your door. This is the only place outside of the company's branded retail stores where Weber grills can be purchased.
The restaurant is located at the north end of the Galleria in the space that was once occupied by Black Finn. Approximately 9,000 square feet, it will offer a mix of cabins and low-tops to accommodate over 200 guests. Two patio spaces will accommodate 130 additional customers. One patio will be open and the second will function as a closed patio connected to the indoor bar. Several fireplaces will warm the space.